Author Eugie Foster passed away 9/27/2014
---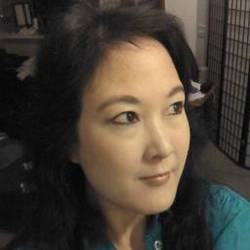 Eugie Foster, author, editor, wife, died on September 27th of respiratory failure at Emory University in Atlanta.
In her forty-two years, Eugie lived three lifetimes. She won the Nebula award, the highest award for science fiction literature, and had over one hundred of her stories published. She was an editor for the Georgia General Assembly. She was the director of the Daily Dragon at Dragon Con, and was a regular speaker at genre conventions. She was a model, dancer, and psychologist. She also made my life worth living.
Memorial service will be announced soon.
We do not need flowers. In lieu of flowers, please buy her books and read them. Buy them for others to read until everyone on the planet knows how amazing she was.
–Matthew M. Foster (husband)
from http://boingboing.net/2014/09/27/rip-eugie-foster.html
——————————————————————————–
Ms Foster has been featured as an author and a narrator on all of the Escape Artists podcasts.
https://escapepod.org/2005/09/01/ep017-the-life-and-times-of-penguin/
https://escapepod.org/2006/02/02/ep039-my-friend-is-a-lesbian-zombie/
https://escapepod.org/2007/08/30/ep121-the-snow-womans-daughter/
https://escapepod.org/2009/09/03/ep214/
https://escapepod.org/2009/12/18/ep229-littleblossom-makes-a-deal-with-the-devil/
https://escapepod.org/2010/10/07/ep261-only-springtime-when-shes-gone/
https://escapepod.org/2013/03/21/ep388-trixie-and-the-pandas-of-dread/
http://pseudopod.org/2008/05/23/pseudopod-91-caesars-ghost/
http://pseudopod.org/2009/04/10/pseudopod-137-the-reign-of-the-wintergod/
http://pseudopod.org/2012/01/20/pseudopod-265-biba-jibun/
http://pseudopod.org/2013/07/19/pseudopod-343-magdala-amygdala/
http://podcastle.org/2008/10/08/pc028-the-tanuki-kettle/
http://podcastle.org/2009/07/29/podcastle-63-daughter-of-botu/
http://podcastle.org/2010/05/25/podcastle-105-honored-guest/
http://podcastle.org/2011/11/22/podcastle-184-black-swan-white-swan/
http://podcastle.org/2010/01/02/podcastle-miniature-45-when-shakko-did-not-lie/